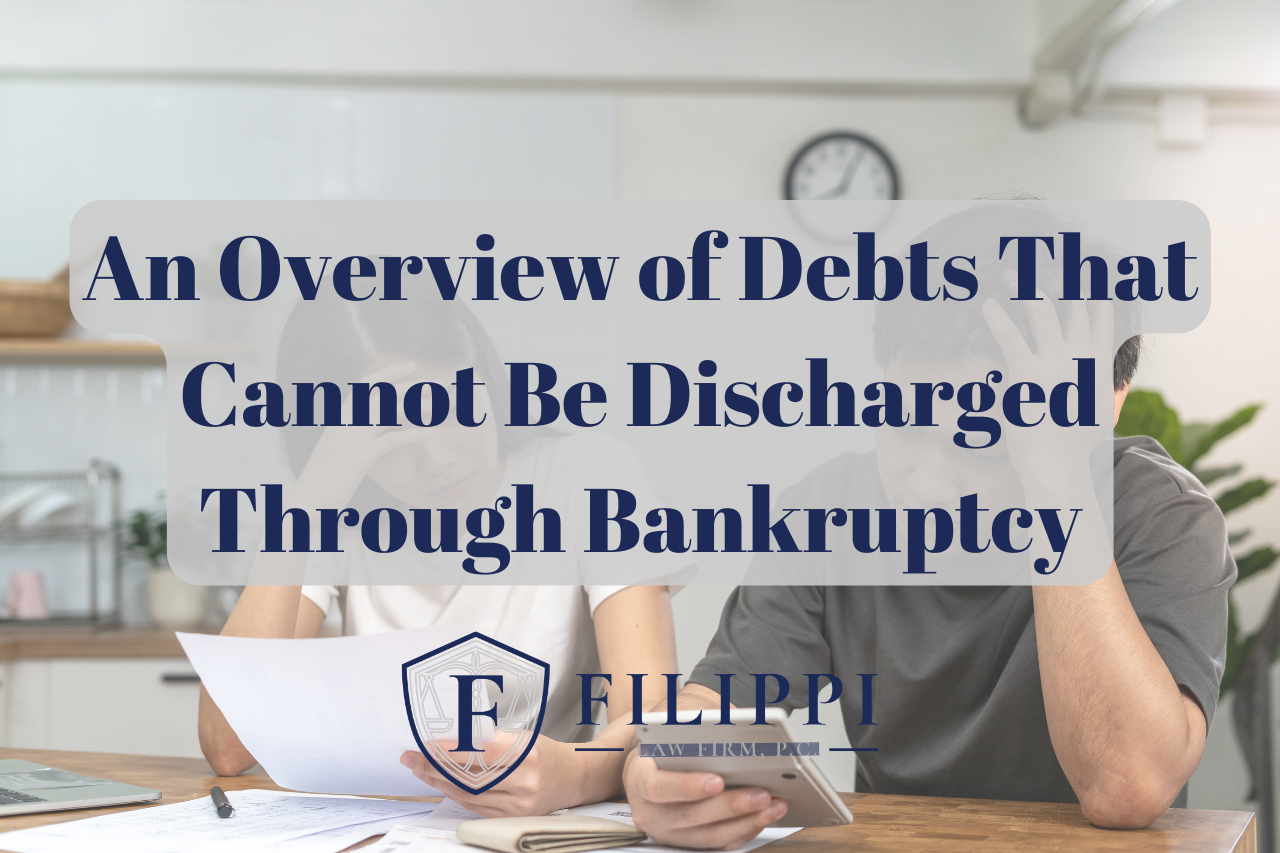 The past few years have seen an unprecedented number of people across California file for bankruptcy. Bankruptcy is often seen as a way to clear most debts and put you in a financial position to start over. However, certain types of debt cannot be discharged or cleared through bankruptcy. In this article, we'll examine these debts, explore why they can't be discharged, understand if they need to be paid anyway, and outline strategies for dealing with them.
Debts That Cannot Be Discharged in a Bankruptcy
Certain types of debt cannot be discharged through a bankruptcy filing. These debts include alimony and child support payments, most student loan debts, government-imposed fines or penalties, and most taxes owed to the federal government or state. Additionally, any secured loans, such as mortgages, that are being reaffirmed in the bankruptcy filing are not eligible for discharge. This means that if you have taken out a mortgage on your home and choose to keep it after declaring bankruptcy, you will still be responsible for paying back the full amount of that loan, even though other debts may be cleared by your filing.
It is important to note that creditors can challenge your attempt to discharge particular debts in court if they feel those obligations should not be relieved due to certain circumstances related to fraud or misrepresentation on your part. Ultimately, however, only certain types of debt can be discharged during bankruptcy proceedings; all others must continue to be paid according to their original terms, regardless of whether you file for bankruptcy protection or not.
Why Some Debts Cannot Be Discharged
The reasons why some debts cannot be discharged during bankruptcy proceedings are primarily related to fairness, public policy, and legal precedent. For instance, alimony and child support are considered obligations of a moral nature that must be maintained regardless of a person's financial condition. Similarly, student loan debts represent investments in education that should not simply be forgiven without consideration for the benefit gained by the borrower from those loans. Government-imposed fines or penalties are designed to ensure compliance with laws and regulations; therefore, they should not be relieved through bankruptcy filings either. Finally, taxes owed to governmental entities reflect funds taken from citizens who have already benefited from certain services provided by their government; as such, these funds must still be paid back even if other debtors receive discharge protection due to their filing for bankruptcy.
Do Non-Discharged Debts Need to be Paid?
When filing for bankruptcy, it is important to understand that not all debts will be discharged. This means that even though other obligations may be cleared by the bankruptcy process, certain types detailed above must still be repaid regardless of any discharge protection received through a bankruptcy filing.
While these non-discharged debts must still be paid according to their original terms and conditions, there are strategies available for managing them before they become unmanageable. For instance, borrowers can request forbearance on student loans so that payments are suspended temporarily while they work out a payment plan with the lender; likewise, those who owe taxes can negotiate installment plans with the IRS if they cannot afford to make full payments in one lump sum. Ultimately, however, non-discharged debts need to be addressed in some way, as failure to do so could result in wage garnishment or other legal repercussions.
How to Deal With Debts That Cannot Be Discharged
The first step in managing debts that cannot be discharged through bankruptcy is to understand the details of each debt. This includes knowing who the creditors are, what the terms of repayment are, and any applicable deadlines for payment. Knowing this information will enable borrowers to plan their finances accordingly and avoid falling behind on payments or defaulting on loans.
Once all pertinent information has been gathered, borrowers should contact their creditors directly to discuss payment options and potential modifications or changes to existing repayment plans if needed. It may also be beneficial for those with multiple non-discharged debts to speak with a financial advisor or credit counselor who can provide guidance on how best to manage and pay off these obligations while still being able to meet other financial commitments such as rent, utilities, food costs, etc. Finally, utilizing budgeting tools such as personal finance software packages can help individuals better track their spending habits, which in turn will allow them to more effectively allocate funds towards paying down unpaid debts over time instead of accumulating more debt due to irresponsible spending practices.
In conclusion, understanding the debts that cannot be discharged in bankruptcy is essential for managing your finances. Although certain debts are excluded from the discharge process, it's still important to pay them if you are able. But if you are unable to pay non-dischargeable debts due to remuneration or hardship, then look into payment plans or negotiations with your creditor as a viable option. Ultimately, by knowing how to approach problems with non-discharged debts, you can make better decisions when it comes to managing your finances and avoid potential financial pitfalls.
Filippi Law Firm, P.C., provides legal services in estate planning, probate, trust administration, trust litigation, and personal bankruptcy in the greater Sacramento area and Placer County, with a focus in Rocklin, Roseville, Lincoln, and Granite Bay. Give us a call at (916) 333-7910 or fill out the contact form to get in touch with our office. Consultations are free, and they can be done over the phone, via Zoom, or in person at our office in Rocklin.