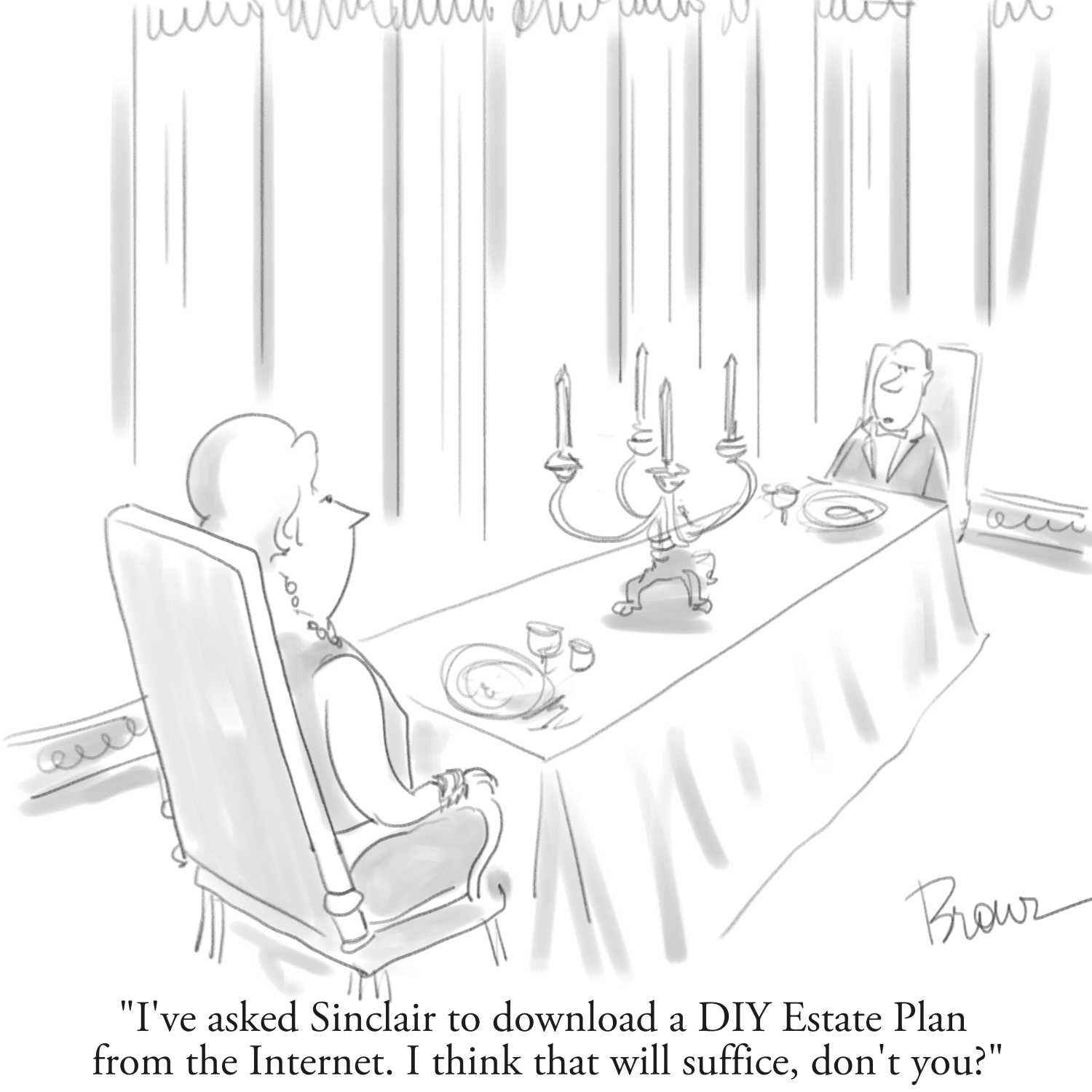 Why you should stay away from DIY estate plans
Estate planning is an important process that requires meticulous attention to detail and a thorough comprehension of the law. Many people are tempted to use do-it-yourself (DIY) templates and online resources to create their estate plans in this era where information is easily accessible via the internet. Although these solutions appear to be an inexpensive fix, they could result in many costly consequences in the future. Often, something bought at a discount ends up costing much more in the long run. We'll explore the typical problems and drawbacks of di-it-yourself plans and emphasize the major advantages of consulting with an experienced estate planning attorney.
Your will could be declared invalid: Do-it-yourself wills might not follow all state legal requirements. Your entire will could become void due to even a small oversight, leaving your assets unprotected and vulnerable to intestate succession laws (applied when you die without a will).
A DIY Will Might Not Suit Your Needs: Everybody has a unique situation. If you have a complicated family structure, a variety of assets, or charitable intentions, a generic template might not be able to meet all your specific needs.
Contradictory Provisions: Do-it-yourself estate planning frequently results in unclear or contradictory clauses in your documents. This uncertainty may lead to disagreements among your heirs, resulting in drawn-out and costly legal disputes.
Guardianship Issues: Establishing guardianship is an important part of estate planning if you have minor children. Plans that are do-it-yourself may not adequately address this problem, endangering the future of your kids.
Failure to Update: Life changes such as divorces, births, marriages, and deaths can have a big impact on your estate plan. DIY estate plans might not know what needs to be updated, which could result in unforeseen consequences and disputes.
Ignorance of Legal Changes: Wills and estate laws are subject to change. A knowledgeable estate planning attorney stays updated with these changes and ensures your plan remains compliant and effective. Most DIY software providers don't provide these kinds of updates.
Inaccurate, incomplete, or contradictory information: DIY plans are susceptible to errors. During the probate process, errors, omissions, or contradictions may cause misunderstandings, hold up proceedings, or result in legal disputes.
Lack of Clarity: Your family members might be left with documents that lack clarity. Unclear instructions can lead to misunderstandings, disputes, and even alienation among loved ones.
Failure to comply with state law: Each state has its own estate planning laws. DIY templates might not meet the legal requirements in your state, rendering your documents invalid or subject to being contested in court.
Limited online resources: Although convenient, online resources frequently don't provide the in-depth analysis needed for a comprehensive estate plan. Estate planning attorneys have the knowledge and expertise to customize your estate plan to suit your unique needs.
Benefits of working with an estate planning law firm
Working with an estate planning lawyer has many advantages. An attorney will carry out in-depth evaluations of your assets, family dynamics, and financial objectives to create a personalized plan that reduces tax obligations and optimizes the inheritance left to your beneficiaries. Trusts, wills, and power of attorney documents are complicated topics that estate planning lawyers can help you navigate. They can explain each in detail and support you in making decisions.
In addition, a lawyer serves as a qualified mediator, guaranteeing that the legal documents appropriately and unambiguously express your intentions. They assist in avoiding common mistakes that could compromise the integrity of your estate and provide invaluable advice on potential pitfalls. With their help, you can stay in compliance with local, state, and federal laws while creating guardianships, establishing emergency plans, and organizing charitable contributions.
Estate planning lawyers also offer continuing assistance. They can accommodate updates and changes as your circumstances change in life. Your attorney makes sure that your estate plan is up-to-date and still represents your wishes in the event of a new marriage, the birth of a child, or changes in your finances. By being proactive, the likelihood of future conflicts and legal challenges is reduced.
An estate planning lawyer also serves as a reliable advocate for your family in the event of your death or incapacitation, helping them navigate the difficulties of trusts, probate, and estate administration. Their knowledge relieves your loved ones of the burden during a trying emotional time, so they can concentrate on helping each other instead of figuring out complicated legal matters.
In summary, working with an estate planning lawyer gives you peace of mind in addition to ensuring the validity and effectiveness of your estate plan. Investing in professional expertise is an invaluable decision for your future and the future of your family, as their personalized guidance guarantees the preservation of your legacy. Entrusting the process to a qualified professional when it comes to something as significant as your legacy guarantees that your wishes are carried out without a hitch, giving you and your loved ones security.
Finally, it should be noted that estate planning is a customized process. Your life's subtleties, your possessions, and your relationships demand thought and knowledge. An estate planning lawyer guarantees that everything is as it should be. Although do-it-yourself solutions may initially seem appealing, the risks and complications far outweigh the advantages. Don't gamble on your family's future; instead, make an investment in expert advice for your loved ones.
Visit our estate planning page here 'Estate Planning Services'
Filippi Law Firm, P.C., provides legal services in estate planning, probate, trust administration, trust litigation, and personal bankruptcy in the greater Sacramento area, with a focus in Rocklin, Roseville, Lincoln, and Granite Bay. Give us a call at (916) 333-7910 or fill out the contact form to get in touch with our office. Consultations are free, and they can be done over the phone, via Zoom, or in person at our office in Rocklin.