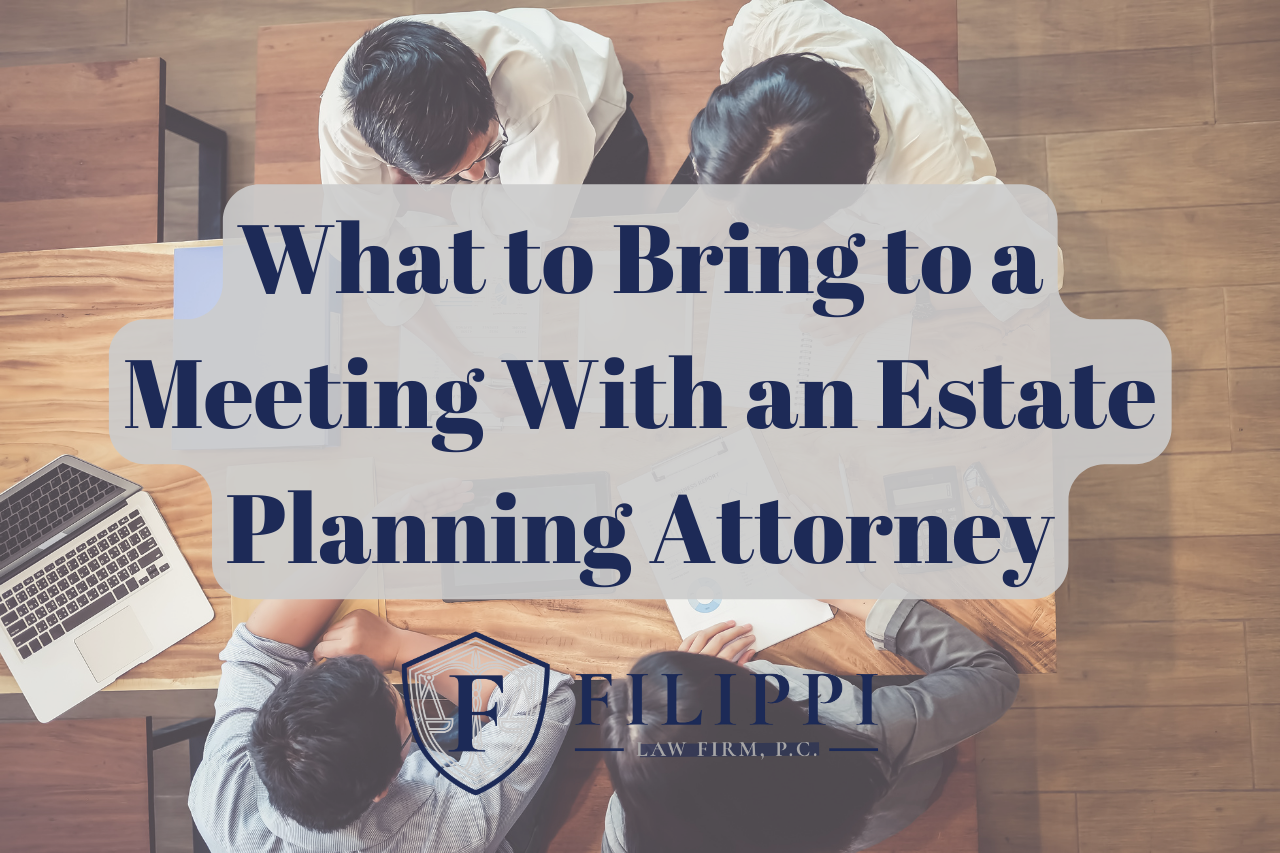 Important Items to Bring to an Estate Planning Lawyer Consultation
Planning for the future is a smart and responsible initiative that everyone should take. When it comes to estate planning, it is essential that you seek the guidance of an experienced estate planning attorney. You can book a free consultation with us at Filippi Law, P.C., here or by giving us a call at (916) 333-7910. Whether you are meeting with your attorney for the first time or reviewing your existing estate plan, being organized and prepared will make the process more efficient. To ensure a productive meeting, it is essential to bring information that may help your estate planning attorney understand your goals and put together a personalized estate plan. This blog post goes over the essential items you should bring to a meeting with an
estate planning lawyer.
Personal identification and relevant documents:
Bring a valid form of identification, such as your driver's license or passport, to establish your identity and facilitate the legal process. In addition, bring copies of any pertinent legal documents related to your estate, such as:
current wills or trust documents

living wills or advanced healthcare directives

business ownership documents

beneficiary designations for pension plans and life insurance policies

powers of attorney

marriage, divorce, or prenuptial agreements

real estate deeds

list of liabilities and debts
Financial and Asset Details:
Estate Planning requires a comprehensive overview of your financial situation. Bring the following documents to help your attorney understand your assets, liabilities, and financial objectives:
bank statements

retirement account statements (e.g., 401(k) IRA)

Real estate documents (deeds, mortgages, etc.)

investment account statements

business ownership information

documentation of outstanding loans and debts
Family and Beneficiary Details:
Planning your estate involves making decisions about your loved ones and beneficiaries. Bring their full names, birth dates, and contact information. In addition, consider providing pertinent documents.
birth certificates

adoption documents

marriage documents

divorce decrees

social security numbers
Before meeting, jot down any estate planning-related concerns or questions you have. This may include questions regarding particular legal documents, tax implications, or the distribution of assets. Having these questions prepared will allow you to maximize your time with the lawyer and obtain clarity on crucial matters.
Clarify your personal estate planning goals and objectives. Do you have specific distribution preferences for your assets? Which charitable causes would you like to support? By clearly articulating your intentions, your estate planning attorney will be able to construct a plan that aligns with your preferences and assists in achieving your goals.
Meeting with a lawyer who specializes in estate planning is essential to securing your future and ensuring that your wishes are carried out. By bringing necessary documents, information, and questions to your meeting, you can maximize its efficiency and help your attorney create a customized estate plan that reflects your goals. Remember that estate planning is a dynamic process, and regular evaluations with your attorney are necessary to account for changes in your life. With a well-considered estate plan in place, you can rest assured that your loved ones and assets are safeguarded in accordance with your wishes.
Filippi Law Firm, P.C., provides legal services in estate planning, probate, trust administration, trust litigation, and personal bankruptcy in the greater Sacramento area, with a focus in Rocklin, Roseville, Lincoln, and Granite Bay. Give us a call at (916) 333-7910 or fill out the contact form to get in touch with our office. Consultations are free, and they can be done over the phone, via Zoom, or in person at our office in Rocklin, California. Prepare for your future and work with the best estate planning attorneys today.