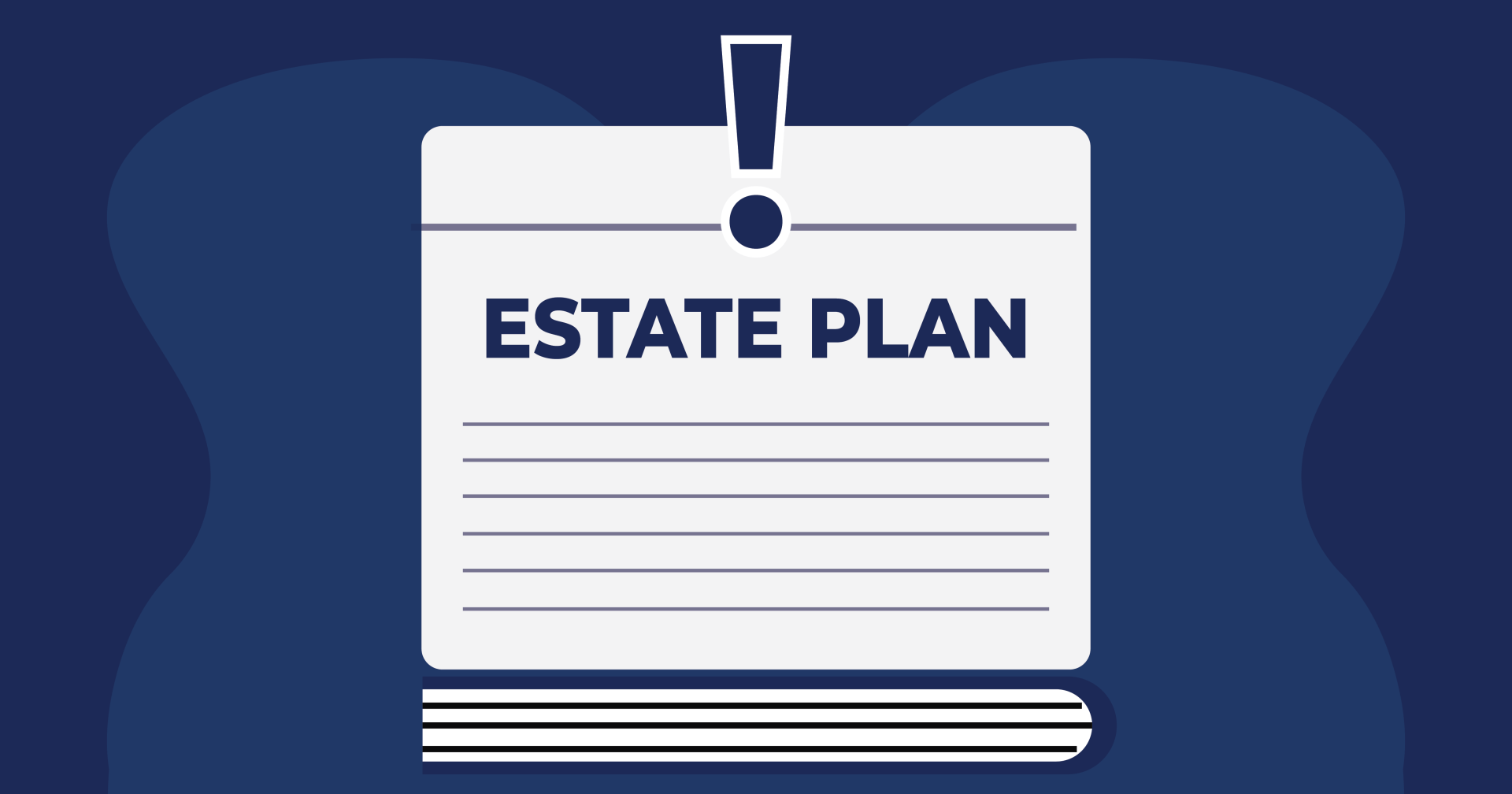 We often don't think about our future until it's too late. And when it comes to estate planning, it is never too early to have a solid plan. While it may not be pleasant to think about, life is unpredictable.
When we near the end of our life, we need to make sure our assets are safe and our family is secure. Estate planning is not just for the wealthy and affluent, and people from all walks of life need to ensure they have a proper plan for when they are gone.
With the right team and strategy, estate planning will be painless and set your family up for success. Countless benefits will ensure that everything you've worked for doesn't go to waste. Below are the top ten reasons you need an estate plan now.
#1 Reduce Estate Taxes
Putting together an estate plan can prevent a considerable chunk of your money from being taken by the government. In the situation of your passing, having to send a large percentage of funds to the government would be an unwanted burden on your family.
Whether it is estate taxes, capital gains taxes, or property taxes, there are ways to lower the amount of your money taken. Having a professional work with you to set up living trusts is one method of reducing taxes.
Plus, it will speed up the process for your heirs and help reduce confusion and stress over how to deal with all the taxes.
#2 Protect Assets
An estate plan is designed to help you organize your inventory of assets and be aware of all the steps needed to protect them both during your lifetime and after you are gone. In many cases, people often forget how easy it is to lose assets when they are not protected.
For example, if you happen to be involved in a lawsuit during your lifetime, a good estate plan could help you protect your assets.
#3 Protect Beneficiaries
One of the main reasons for estate planning is to make sure that your beneficiaries receive everything you want them to. An estate plan is beneficial if you are wealthy with a substantial estate or only have a few assets, including the family home to leave to your heirs.
Regardless of how much you have to leave your loved ones once you are gone, protecting your beneficiaries and ensuring they get everything you intended for them to have must be set up before your death.
Nobody knows your family better than you do. If you don't have an estate plan or will, it will be up to the courts to decide who gets what. Whatever your reasoning, having everything set up beforehand is the best way to ensure that all your assets get distributed according to your wishes.
#4 Prevent Family Problems
The death of a loved one causes enough pain as it is, and adding family problems or fighting over assets on top of that causes unwanted stress at a difficult time in people's life. These disputes can often pit family members against each other.
Some siblings may think they deserve more than another, a spouse may think they should be responsible for the entire estate, or a beneficiary might believe they should be in charge of dividing the estate amongst family.
Whatever the situation, stopping these issues from arising in the first place is a significant benefit of estate planning— having everything organized in advance will allow the process to run smoothly and prevent any avoidable problems from arising within your family.
#5 Protect Minors
Preparing for worst-case scenarios is an essential aspect of estate planning. Nobody anticipates it, but leaving children under 18 must be properly planned to ensure they are taken care of in the case of your unexpected death.
You know your children better than anyone, and you know what situations would be best for them. By naming guardians that will take care of your children, you will avoid the painful experience of a court battle to appoint custody.
These avoidable situations not only cause unneeded stress and pain but can often put your children in circumstances that are not ideal for their future. Setting up a trust for minors is a great way to ensure that they will get everything you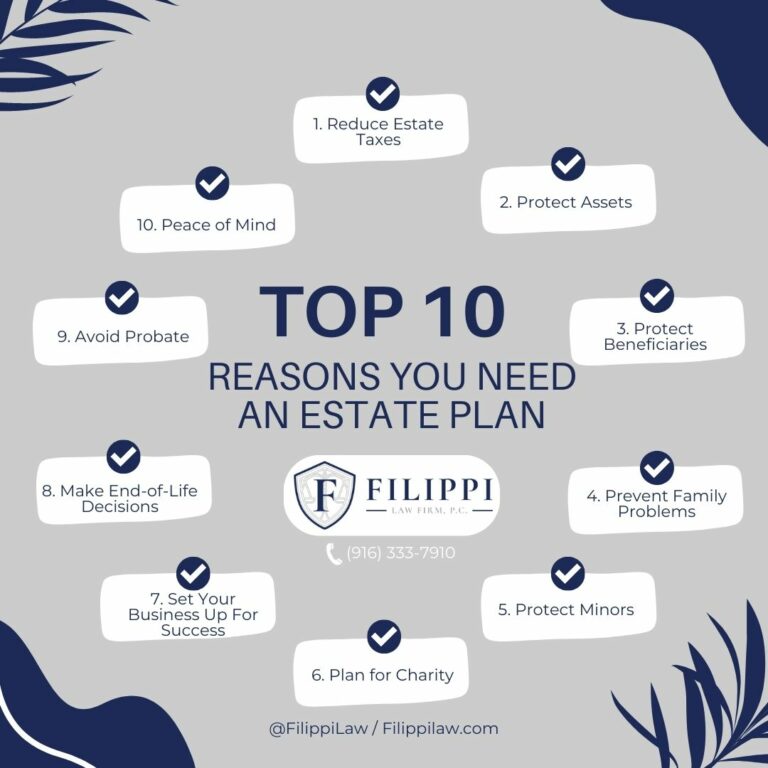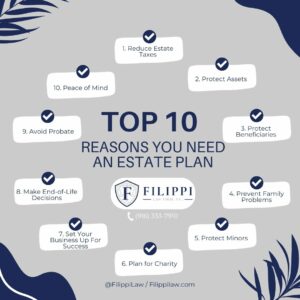 set aside for them when they are older.
All of this can be planned when setting up your estate plan.
#6 Plan for Charity
Today we see many of the world's wealthiest people allocating portions of their fortune to charity. Regardless of the amount of your wealth, individuals that would like to leave an asset or specified amount of money to a charity need to plan this in advance.
Providing money to charities or non-profits is a noble cause, and the process can be made simple with an estate plan. Once you decide which charities you wish to donate to, they can easily be added, and your family won't have to worry about handling any of these details.
By deciding in advance where the money will go and coming up with a plan, you may also be able to avoid losing too much of the money to taxes to make your generous gift even more substantial.
#7 Set Your Business Up For Success
You worked incredibly hard to get your business to where it is today. Don't you want to ensure that it remains successful when you're gone? Unfortunately, that company you spent your life building could be gone without a succession plan in the blink of an eye.
An estate plan will ensure that you can decide who takes over your company when you're gone. Making certain the right person is put in charge could be the difference between an ongoing successful legacy and your business suffering from poor management.
Creating an estate plan can ensure that your business is put in the hands you think are best to carry on your legacy. This may be one individual or a team of professionals that will have your best interest at heart.
#8 Make End-of-Life Decisions
Nobody wants the task of deciding what happens to a family member when they are incapacitated. An estate plan is not only for money and property, but it can also be used to designate a power of attorney when you cannot make decisions yourself.
You can also provide in specific terms your end-of-life decisions. Whether it is deciding treatment options for certain health problems or choosing a loved one that can make those decisions for you, this can prevent hard decisions from being thrust upon someone unexpectedly.
#9 Avoid Probate
Everyone has heard the horror stories of people going through probate. The process of validating your will and placing your assets where you want them can be a long and painful process.
During probate, various people can challenge your will, which may even prevent your last wishes from happening. This is a family's worst nightmare and can be eliminated when the proper steps are in place at the time of your death.
Avoiding probate is one of the most important reasons to talk to a professional estate planner. Having everything set up accordingly can allow your family and loved ones to avoid the probate process altogether. Read more about probate here.
#10 Peace of Mind
At the end of the day, your peace of mind is the most critical aspect of estate planning. Going through life worrying about what will happen when you're gone could easily add unneeded stress to your last years.
Knowing upfront what will happen to your assets will allow you to relax and enjoy your life, and you'll have the comfort of knowing that your estate plan will take care of your loved ones long after you are gone. These are all great reasons you need an estate plan now.
Contact Us Today
The Filippi Law Firm, P.C. is a highly rated estate planning law firm in Rocklin, California. Our team is dedicated to guiding you through the process and bringing peace of mind to your family. When you hire us, you are more than a client, you are part of our family. Get in touch today to see how we can help you create an estate plan that matches your needs.
Filippi Law Firm, P.C., provides legal services in estate planning, probate, trust administration, trust litigation, and personal bankruptcy in the greater Sacramento area, with a focus in Rocklin, Roseville, Lincoln, and Granite Bay. Give us a call at (916) 333-7910 or fill out the contact form to get in touch with our office. Consultations are free, and they can be done over the phone, via Zoom, or in person at our office in Rocklin. Prepare for your future and work with the best estate planning attorneys today.