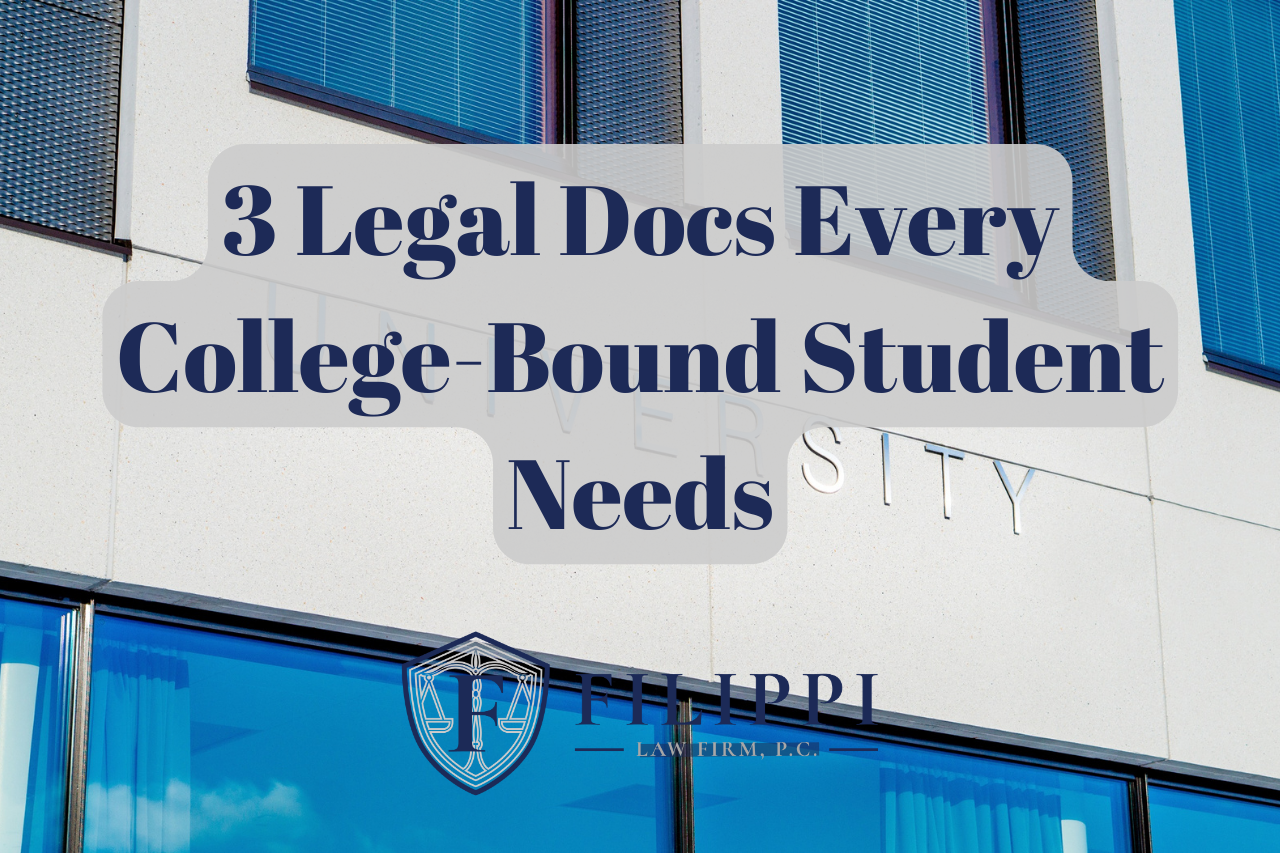 Heading off to college is an exhilarating time filled with personal growth, new experiences, friendships, and exciting challenges. Amidst the excitement, it's crucial for both college-bound young adults and their parents to address important legal matters. You can have peace of mind and be prepared for unforeseen circumstances by taking the necessary steps to have an estate plan in place. You can ensure that property and assets are dispersed according to your wishes rather than a court's decision. For a young adult with minimal assets, an estate plan is essential because it provides a plan for unexpected circumstances while you're still alive. College students need to be aware of these documents so that they can create an estate plan that meets their needs now and in the future. In this blog post, we will discuss three critical legal documents that any young adult heading to college should have: Last Will and Testament, a Power of Attorney, and an Advanced Healthcare Directive. Let's get started!
Last Will and Testament:
A Last Will and Testament (or simply a "will") is a legal document that specifies how your assets should be allocated after your death. Even as a college student, you may have valuable personal belongings, financial accounts, or digital assets. Through a will, you can specify who will inherit these assets and appoint an executor to carry out your desires. Without a will, your assets may be subject to intestate laws, which are drawn-out laws that vary by state and may cause your assets to be distributed differently than you would have preferred.
When drafting a last will and testament, think about who you want your beneficiaries to be and how much of your inheritance you want them to receive. Any individual or organization can be named as a beneficiary in your will; however, it is essential that you seek professional guidance when doing so. In addition to naming beneficiaries, a last will and testament should include directions for final expenses such as medical bills or memorial costs. Finally, any documents should be drafted and reviewed by an attorney before they are signed, as they contain sensitive information about one's financial affairs that may require specific legal jargon depending on the situation. It is especially important for parents to encourage their college-bound children to create a will, as it will provide clarity and avoid potential hardships in the future.
Power of Attorney:
A Power of Attorney (POA) is a legal document that authorizes another person to act on your behalf in legal and financial matters. As a college student, you may find yourself in situations where you need help handling important matters but are not able to do so yourself, such as managing bank accounts, signing contracts, or handling academic or administrative concerns. By selecting someone you trust as your agent through a POA, you ensure that someone you trust has the legal ability to make decisions on your behalf when necessary. Depending on the type of POA established, it can remain in effect indefinitely until revoked or it can be valid for a specific period or event. When you establish a power of attorney, it is important to understand the different types and which suits your needs.
A general POA authorizes an agent to handle aspects of the principal's affairs, including banking information and medical choices. A limited or specialized POA can only authorize certain responsibilities, such as managing investments or signing tax returns on the principal's behalf. There are also spring powers that can come into play when certain conditions are met, such as incapacity due to illness or disability. These must be carefully worded because they can involve complex legal jargon and can easily be contested if not properly drafted. A key element of your POA is selecting the right agent, as this person will have major influence over decision-making processes related to both financial and personal matters when needed most. When selecting the an agent, you should choose someone you implicitly trust and assure they understand the decision-making power they will have before signing any documents. This way, everyone's expectations will be clear from the start. Parents should discuss the significance of a POA with their college-bound children, as it provides an additional layer of protection and support during their college years.
Advanced Healthcare Directive:
An advanced healthcare directive, also known as a living will or medical power of attorney, expresses your healthcare preferences in the event that you become incapacitated and unable to make decisions. This legal document outlines your preferences for medical treatments, life-sustaining measures, organ donation, and end-of-life care. Having an advanced healthcare directive not only guarantees that your wishes are known, but it also relieves your loved ones of the burden of making tough decisions during a time of already intense emotional stress. It is important to give clear instructions regarding your preferences for medical treatment. This includes treatments you would or would not want administered. This can range from what type of pain relief methods are used to whether resuscitation efforts should be made.
It is crucial that your advanced healthcare directive reflect your values because it may serve as legal counsel during tough times if family members are forced to make tough decisions on your behalf. You should discuss your preferences with family members before making these documents so that everyone understands how to best honor you if they ever need to act on your behalf.
Conclusion
As a new college student, it's crucial to address important legal matters before embarking on this exciting new chapter of your life. While it may seem like estate planning is something reserved for older individuals, every adult, no matter their age, should have an estate plan. As a college student, having the necessary legal paperwork in place provides peace of mind and protects your interests in the event of an emergency. You can take charge of your future and ensure your wishes are honored by creating a Last Will and Testament, granting Power of Attorney, and drafting an Advanced Healthcare Directive. College students can rest assured knowing that their assets will be taken care of according to their own wishes instead of relying on a court's decision when it comes time to distribute them later down the road.
Parents play a vital role in guiding their college-bound children through these legal processes and encouraging them to be proactive about their legal well-being. By taking the time to address these legal matters, you and your parents can have peace of mind and focus on making the most of your college experience. Remember, it's always a good idea to consult with an attorney who specializes in estate planning to ensure your documents are valid and tailored to your specific needs. By being proactive and making informed decisions now, you are setting a strong foundation for your legal and financial well-being in college and beyond.
At Filippi Law Firm, P.C., we have designed a Young Adult Estate Plan Package which includes these three documents. You can give us a call at (916) 333-7910 or fill out the form at the bottom of this page to get in touch with our office.
Filippi Law Firm, P.C., provides legal services in estate planning, probate, trust administration, trust litigation, and personal bankruptcy in the greater Sacramento area, with a focus in Rocklin, Roseville, Lincoln, and Granite Bay. Consultations are free, and they can be done over the phone, via Zoom, or in person at our office in Rocklin. Prepare for your future and work with the best estate planning attorneys today.