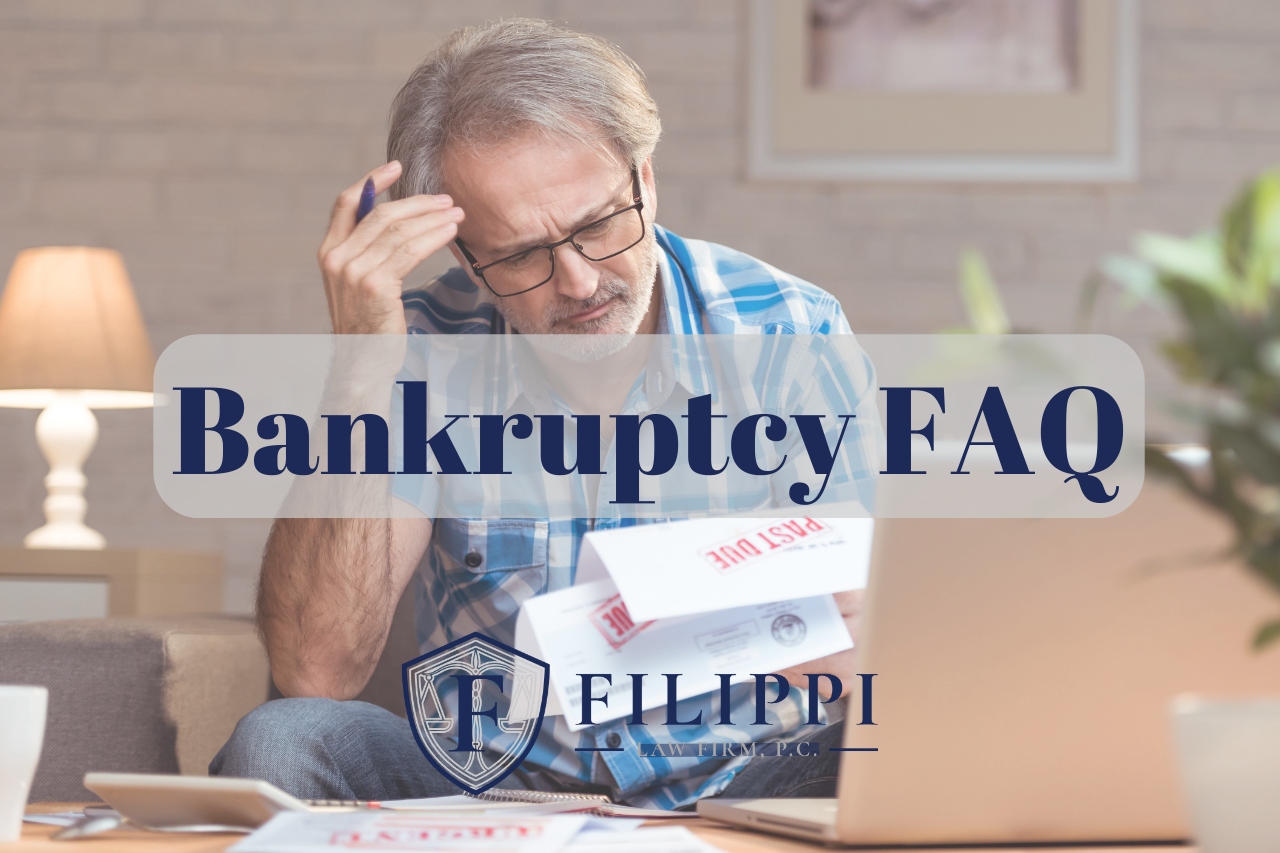 Bankruptcy FAQ
The thought of bankruptcy can be an overwhelming experience, but understanding the basics can help ease some of the stress. Filing for bankruptcy can be a relatively simple process with the help of a bankruptcy attorney. We've compiled a list of frequently asked bankruptcy questions to provide you with peace of mind before moving forward.
What is bankruptcy?
Bankruptcy is a legal process that allows individuals and businesses who are unable to repay their debts to seek financial relief. It can provide a fresh start by either eliminating debts or setting up a manageable repayment plan.
What are the different types of personal bankruptcy?
There are two types of personal bankruptcy: Chapter 7 (liquidation of assets and debts) and Chapter 13 (reorganization of debts). They have different goals, outcomes, and eligibility requirements.
How long does the bankruptcy process take?
The process may vary depending on your case. Chapter 7 can take between three and six months, whereas Chapter 13 can take thirty-six to sixty months.
How does bankruptcy affect my credit score?
The severity of the effect will vary. It can lower your credit score by about 200 points. The impact can last for several years, but you can start rebuilding your credit immediately after the bankruptcy process.
Will I lose everything I own if I file for bankruptcy?
No, bankruptcy laws offer exemptions that let you retain valuable possessions like your house, car, and other necessary personal items. The details vary depending on the type of bankruptcy you file and your case.
Can I keep my house and car if I file for bankruptcy?
Yes, in many instances. Bankruptcy exemptions protect some equity in your vehicle and home. But this should be evaluated by a bankruptcy attorney to ensure exemptions are properly applied to your case.
Will creditors stop harassing me after I file for bankruptcy?
Yes, immediately after you file for bankruptcy, an automatic stay goes into effect. Which prevents creditors from harassing you.
Will all my debts be forgiven? Can I include all my debts?
Not necessarily. Many debts can be eliminated, but there are some exemptions, such as certain taxes, child support, and student loans.
What is the difference between secured and unsecured debts?
Secured debts have some collateral, such as a house or car. Unsecured debts have no collateral, such as credit card debt.
Can I file for bankruptcy on my own?
You can file for bankruptcy on your own, but it's advisable to consult with a bankruptcy attorney to navigate the legal process effectively.
Will my employer be notified if I file for bankruptcy?
Your employer won't be informed unless you owe them money. However, bankruptcy filings are public and can be seen by anyone interested.
Can bankruptcy stop foreclosure and repossession?
Yes, due to the automatic stay that goes into effect after filing. It temporarily halts foreclosure and repossession proceedings. A permanent solution should be discussed with your attorney.
Can I keep a credit card open when filing for bankruptcy?
Generally, no. Banks typically close out accounts after they get a record of bankruptcy. You also cannot use credit cards while you're going through the bankruptcy process. The use of credit cards in anticipation of bankruptcy is not allowed as well.
Will my spouse be affected by my bankruptcy?
They will if you have joint debts or assets, but their separate property is generally protected. However, if you bankrupt against a joint debt, your spouse will still be liable for repayment as their liability is unaffected by your bankruptcy.
How does bankruptcy affect my financial future?
Bankruptcy will have a negative impact on your credit and affect your ability to get loans, but it also gives you the opportunity to have a fresh financial start. Eliminating debt may give you the opportunity to start saving instead.
Will I need to go to court if I file for bankruptcy?
Yes, you will need to attend a bankruptcy hearing. It is typically a straightforward proceeding if you follow the court's instructions.
Can I pick the type of bankruptcy to file for?
Your financial situation determines the type of bankruptcy you can file for. A bankruptcy attorney can help determine the best option for your situation.
What is the means test, do I have to do it, and how does it affect bankruptcy?
The means test is used to determine if you qualify for Chapter 7 bankruptcy. It compares your income to the median income in your state and takes into account your expenses. Failing the means test may require you to file Chapter 13 instead.
Can I file for bankruptcy if I'm unemployed and have little income?
Yes, you can file for bankruptcy if you are unemployed with little income.
Can my landlord evict me if I file for bankruptcy?
Filing for bankruptcy generally prevents eviction due to the automatic stay. However, if you're behind on payments as part of your bankruptcy plan, eviction proceedings can resume.
Will I be able to qualify for a mortgage after bankruptcy?
It's possible to qualify for a mortgage after bankruptcy, but it can take time, and you could face higher interest rates with stricter lending terms. You should consult with a licensed mortgage loan originator to determine your eligibility for financing.
Can bankruptcy help with medical bills?
Yes, bankruptcy can discharge medical debts along with other unsecured debts to help you get into a better financial situation.
Filippi Law Firm, P.C., can guide you through the Chapter 7 or Chapter 13 bankruptcy process. Give us a call at (916) 333-7910 or fill out the contact form to get in touch with our office. Consultations are free, and they can be done over the phone, via Zoom, or in person at our office in Rocklin.