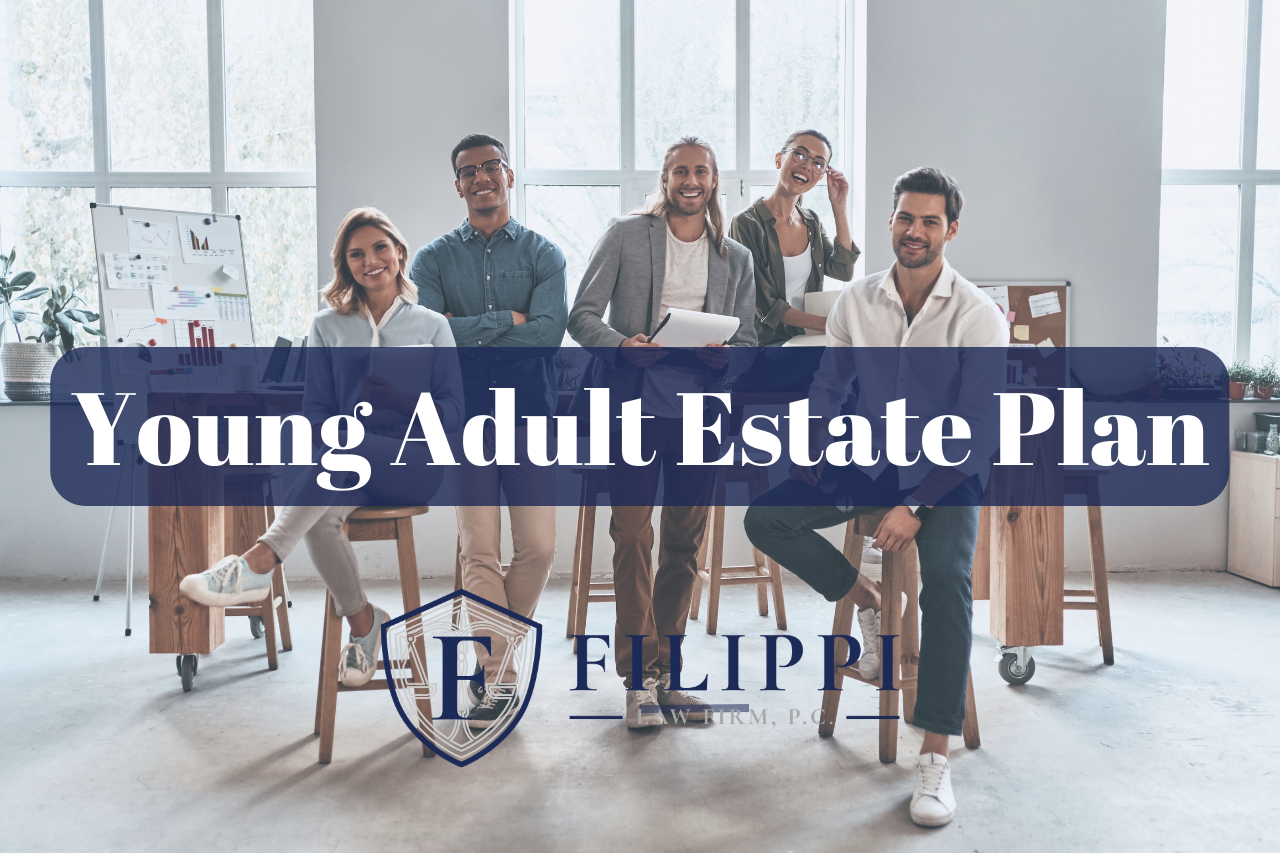 We are delighted to announce that Filippi Law Firm, P.C., now offers an estate plan specifically designed for young adults.
We recognize the invisible legal gap that faces the majority of adults; 67% of Americans do not have estate plans. The top reasons are: they think they do not have enough money or assets to have one; they're not sure how to create one; they believe they're too young; they believe that wills are confusing and expensive; or they want their next of kin to automatically receive everything.
An estate plan can minimize taxes and expenses and help your loved ones avoid legal and other hassles when distributing your assets. While these are important matters, our greatest motivation for this estate plan package is to provide relief for your loved ones in the event that you are incapacitated or unable to make decisions while you're still alive. Our estate plan allows you to decide beforehand how you want health and financial matters to be managed in the event that you are unable to do so. We work with you to create documents that allow you to specify what treatments you do or do not want, and most importantly, they give you the right to predetermine the person who will be responsible for following through on those decisions.
While we hope that you never find yourself in a medical or legal emergency, our mission is to prepare an estate plan that provides you and your loved ones with peace of mind. Every adult should have an estate plan, regardless of age. The Young Adult Estate Plan was designed for those who aren't married, don't have children, and have minimal assets. If you do not meet the criteria, it is in your best interest to get a more in-depth, regular estate plan. Being married, having children, having many assets, or having other factors requires additional documents that are not included in this estate plan. We pride ourselves on creating excellent estate plans for clients that meet their unique needs. We will not create an estate plan that does not encompass all of your assets and life circumstances.
The Young Adult Estate Plan is composed of the following three documents:
A will is a legal document that outlines a person's wishes regarding the distribution of their assets. It allows a person to name beneficiaries who will inherit their assets and an executor who will be responsible for carrying out the instructions in the will.
A power of attorney (POA) is a legal document that allows you to appoint someone to act on your behalf in legal and financial matters. Such as signing documents, managing bank accounts, and buying or selling property.
An advanced health care directive, also known as a living will, is a legal document that allows you to express your wishes for medical treatment in the event that you become incapacitated or unable to communicate your decisions yourself.
This estate plan is the most cost-effective estate plan we offer at Filippi Law Firm, P.C.
Why Is It Important?
Creating an estate plan is important for your assets and your loved ones. 
You get to decide where and to whom your belongings go.

It will make the process a lot easier for the people you might leave behind.

With everything thought out beforehand, it prevents difficult decisions from being thrust upon a loved one.

An estate plan helps streamline the probate process (the legal process for settling someone's estate after they pass), which can be costly in both time and money.

Although unpleasant to think about, leaving your estate planned and the difficult decisions made will allow those you leave behind to focus on grieving instead of dealing with extensive legal matters.
A few words from our founder and principal attorney:
"If you're a parent, you know that raising children is the most rewarding experience we encounter in our human experience. However, it comes with some challenges as well. Nothing is more daunting than when your child is on the cusp of becoming an adult. Are they ready for adulthood?
While they will always be your baby, it wasn't until my first son, who is graduating from high school this year, started planning for the next phase in his life that I realized there is a huge legal hole that is created when they cross the threshold into adulthood. From that realization, I created the young adult plan, so that we can plan in advance and cover that legal hole."
Under our services tab, you can now find the "Young Adult Estate Plan"
Filippi Law Firm, P.C., provides legal services in estate planning, probate, trust administration, trust litigation, and personal bankruptcy in the greater Sacramento area, with a focus in Rocklin, Roseville, Lincoln, and Granite Bay. Give us a call at (916) 333-7910 or fill out the contact form to get in touch with our office. Consultations are free, and they can be done over the phone, via Zoom, or in person at our office in Rocklin. Prepare for your future and work with the best estate planning attorneys today.