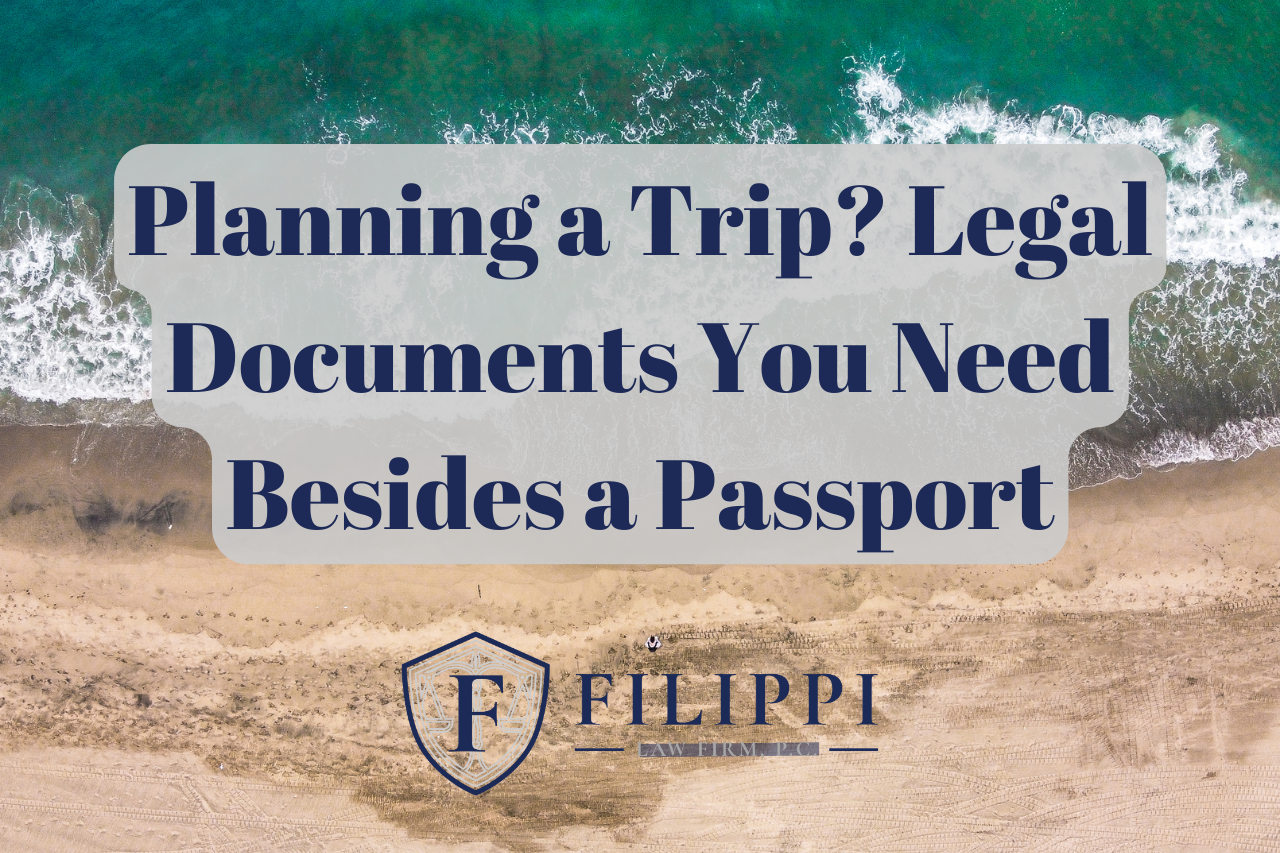 Before taking a relaxing vacation this summer, it is important to have all of the important legal documents in order. A well-drafted estate plan is vital to protecting your assets and providing peace of mind while you're away from home. An estate plan provides specific instructions on how you want your assets distributed after death, who will care for minor children or incapacitated adults in the event of unforeseen circumstances, and other important issues such as medical care, investments, taxes, and more. Furthermore, having an estate plan in place might lessen the likelihood of family troubles if something were to happen during your travels. Having an up-to-date estate plan before taking a summer trip is one of the best ways to protect yourself and your loved ones.
What is an estate plan?
An estate plan is a series of documents that outline how a person's assets should be distributed throughout their lifetime, after death, or in the event of incapacitation. An estate plan's main objective is to provide clear instructions for real estate holdings, healthcare decisions, finances, investments, and more. There are different types of documents involved in creating a comprehensive estate plan, depending on an individual's needs and circumstances.
One of the documents is a will that specifies who will inherit your property when you die and appoints an executor to handle your affairs according to your wishes. A living trust allows people to put their assets into a trust while they are still alive, with explicit instructions on how those assets should be dispersed following death or incapacity. Powers of attorney allow another person (commonly referred to as the agent) to make financial choices on the grantor's behalf if he or she is unable to do so due to sickness or other conditions. Other important documents include health care proxies, which allow someone else to access medical information and make healthcare decisions if necessary; guardianship papers, which designate who will care for minor children; and various tax-related forms, such as gift tax returns, which help ensure taxes associated with large gifts are paid correctly.
Overall, having an up-to-date estate plan gives you peace of mind knowing that your wishes will be carried out even if anything unforeseen happens while you are away from home this summer.
Making an Estate Plan
Once you've decided to construct an estate plan, the next step is to get started. The best place to start is with a professional estate planner who can provide guidance and advice through the process. A top-rated estate plan lawyer can help you evaluate all of your options and make educated decisions about how to effectively handle your assets in compliance with current California regulations. They can also recommend strategies that minimize taxes and guarantee that money is passed down effectively from one generation to the next.
When meeting with an estate planning lawyer for the first time, bring documents including bank statements, investment records, and tax returns so that they can get a full understanding of your financial standing before making any recommendations or drafting legal documents. At Filippi Law Firm, P.C., we offer initial consultations free  of charge. You might find this blog post helpful: "What to Bring to a Meeting With an Estate Planning Attorney." Furthermore, individuals thinking about making an estate plan should explore their options for end-of-life care, such as whether they want life support in particular situations or if organ donation should occur after death. This sort of conversation provides families with peace of mind, knowing that arrangements are already in place in the event of an unforeseen event while traveling this summer.
Developing an efficient estate plan involves more than just establishing who gets what; there are other concerns associated with managing funds during life events such as retirement or incapacity, as well as end-of-life matters such as funeral preparations. Working with a skilled attorney can help ensure that every pertinent factor is considered when drafting your estate plan designed to meet your needs and goals, providing vital protection while vacationing this summer.
Legal Documents Necessary to Travel This Summer
Before leaving on a summer vacation, it is essential to have the necessary legal documentation in place to protect yourself and your loved ones. A Last Will & Testament ("Will") allows individuals to specify how their property should be dispersed after death and to select an executor to guarantee that their desires are carried out in accordance with the instructions outlined in the will. Powers of attorney allow another person (also known as your "agent" or "attorney-in-fact") to make financial decisions on your behalf if you become incapacitated or unable to act for yourself. A living will, also known as an advanced healthcare directive, allows others to access medical information and make healthcare decisions on your behalf if necessary.
If traveling with small children, it is necessary to file guardianship documents to ensure that someone else has legal authority over them in case something happens while you are away from home. This document should include specific information about the guardian(s), such as contact information and any unique credentials they may have, such as being a certified social worker or having professional experience working with children. Furthermore, it should include precise instructions regarding care arrangements, money, educational choices, and other topics so that guardians can properly care for minors during emergency circumstances without having to guess what form of care is most suited for each child involved.
Depending on individual needs, additional documents may be required before going abroad this summer, such as tax returns or retirement accounts that need to be updated prior to leaving the country. Taking these measures now can help minimize stress later by ensuring that all vital matters are taken care of, allowing you to enjoy a much-deserved vacation with peace of mind.
How to Keep Your Estate Plan Up-to-Date
Financial and personal conditions change frequently, so it is critical to keep your estate plan up-to-date throughout your life. If you've had a significant life event, such as a change in marital status or a growing family, it's critical that your will reflect these changes. Furthermore, if the value of assets or investments has changed significantly, modifications to existing legal documents such as powers of attorney and trusts may be required.
Another critical step in updating an estate plan is to ensure that beneficiary designations for retirement accounts and insurance policies are up-to-date and include the intended beneficiaries. Failure to do so may result in loved ones not getting the funds expected after death due to incorrect information being on file. Furthermore, if tax regulations have changed since the original estate plan was created, it may be important to review related forms such as gift tax returns, which help guarantee taxes associated with substantial gift amounts are paid correctly.
Many people feel overwhelmed when considering whether their estate plan needs to be updated; however, consulting with an attorney who specializes in estate planning can make this process easier by helping to identify areas that potentially require revision and providing guidance regarding potential solutions for your needs.
Finally, some common questions during this process include: How frequently should I update my estate plan? What if I don't create or amend my will? Is it necessary to consult with an attorney while creating or amending an estate plan? How much does it cost? Answering these sorts of concerns before leaving on summer vacation provides peace of mind that legal matters are taken care of, enabling you to focus exclusively on enjoying a well-deserved summer away from home.
Conclusion
Overall, making an estate plan is an important step in protecting yourself and your loved ones while away from home this summer. You can have peace of mind knowing that if something unforeseen happens during your travels, your wishes will be carried out according to the instructions in your estate plan, such as a Last Will and Testament or Power of Attorney. Furthermore, having a current estate plan can help minimize taxes and ensure funds for retirement accounts and insurance policies are handled appropriately.
If you're considering creating an estate plan before heading overseas this summer, it's beneficial to consult with an estate planning attorney, as they can offer advice on the options tailored to your needs. Furthermore, if there have been any significant life events since the last time an estate plan was updated, revisions to existing legal  documents such as powers of attorney and trusts may be required, which could save time and stress in the future.
At Filippi Law Firm, P.C., we offer free consultations where the best attorneys answer all estate planning questions so that you feel informed when making decisions about your future financial security while traveling this summer. Our team understands how important it is to get everything taken care of properly prior to leaving, so they have peace of mind knowing that their assets, both now and later on, are protected even if something unexpected happens during their travels.
Filippi Law Firm, P.C., provides legal services in estate planning, probate, trust administration, trust litigation, and personal bankruptcy in the greater Sacramento area, with a focus in Rocklin, Roseville, Lincoln, and Granite Bay. Give us a call at (916) 333-7910 or fill out the contact form to get in touch with our office. Consultations are free, and they can be done over the phone, via Zoom, or in person at our office in Rocklin. Prepare for your future and work with the best estate planning attorneys today.
We are here to help.