What is an estate plan? No matter how much we prepare mentally, most of us are never truly ready to pass away. There are many things to consider regarding how your family will carry on after you're gone, including finances.
Nearly 70 percent of Americans don't have a plan set up for after they pass away, leaving their families in the dark financially. Because of this, it's essential to have an estate plan ready.
What is estate planning, though, and how can the highly rated estate planning attorneys at Filippi Law Firm P.C. in Rocklin get your estate set up? Let's take a look at the details.
While people tend to think of only those with tremendous wealth when hearing the word "estate," however, it's something that everybody has. An estate is all of your possessions, from cash in the bank to the pieces of furniture in your home.
You've likely seen an estate sale, which is operated similarly to a garage sale. These occur when a person who has passed away has many tangible assets liquidated for various reasons, including paying off debts or simply because the family of the deceased are not interested in keeping material items.
Ultimately, estate planning is getting all of your monetary affairs in order after you pass away. Most people think of a will and an estate as the same thing. Still, an estate plan is the culmination of a will and several other post-life estate planning documents, including powers of appointment, trusts, gifts, and property ownership.
Without estate planning, California probate law determines the distribution of all your money and property upon passing, except for joint accounts, which are then transferred fully into your co-owner's name. You don't want the distribution of all your valuables to be left to state law to determine, which can lead to frustration. The highly-rated California estate planning attorneys of Filippi Law Firm P.C. will ensure you have everything you need for your estate plan.
Estate planning doesn't always mean planning for death, either. It can also be used in the event of a long-term illness or injury that can leave you incapacitated and unable to make decisions. This is why our Rocklin estate lawyers suggests it's better to start estate planning at a young age rather than wait until later in life. Often, families are left to fight in courts to determine how assets are divided, which can tear these families apart.
Without an estate plan, the court will ultimately decide how much your loved ones get, and if you have children, decide who their guardian will be. We make estate planning painless, and the post-life process can be reserved for remembering and celebrating your life rather than being saddled with a financial burden and lengthy court process. Financial peace of mind can make the grieving process a little bit easier.
Planning for an estate can be much easier than you think, especially when following a simple checklist. You'll want to get several documents in order, and the highly rated California estate planning attorneys at Filippi Law Firm, P.C. can do just that. There are 10 essential documents you will need during estate planning. Here's what is needed and what these documents entail:
Includes your birth certificate, social security card, and any marriage or divorce certificates you may have.
If you have children under 18, you'll want to name a legal guardian. Also, an executor will be named that will carry out the will and ensure that all the personal belongings listed will get what you have left for them.
Many people have long-term benefits, including pensions, life insurance, and an IRA. Those will pay out following your death, so it's important to designate who will receive those benefits.
A revocable living trust is typically set up by those who are estate planning at a young age. With this trust, you can control your estate while still living, make any changes you want, or revoke it entirely.
Important financial decisions may need to be made when people are incapable of making decisions themselves. Because of this, a power of attorney is needed to make these important decisions for the estate's benefit. A power of attorney can also be designated for your health, making important medical decisions based on your wishes, including being on or off life support late in life.
Most people make large purchases, especially with real estate and vehicles. You don't want these to be in limbo, so it's vital to ensure that all titles and deeds are in order and in your name. You can decide who will be the owner of these titles upon passing.
While estate planning, one of the most important things to do is take inventory of your financial accounts. This includes bank accounts, credit cards, all insurance policies, mortgages, and personal loans. This gives an idea of how much money is owed and designates how much your beneficiaries receive.
It's estimated that less than 20 percent of Americans have their funeral wishes designated in their estate plan. To save your family a lot of time, energy and money, ensure that your post-life wishes are fulfilled. Whether you want thousands of dollars designated for a large burial or simply have your ashes scattered locally, you'll want to be very clear with the directions.
Take note of your financial accounts and passwords' login information and keep them safe. This is something that people more than 30 years ago didn't have to worry about. Still, with most finances being handled virtually, someone should be designated to have the account information upon passing. Start Planning for Estate with Filippi Law Firm, P.C.
The Filippi Law Firm P.C. has the compassionate estate planning attorneys you need for your estate planning documents to ensure your family's best future.
We're a team of dedicated estate planning attorneys. We offer a comprehensive estate plan review so that you and your family aren't left without direction in the event of a tragedy. Our estate planning services help you to minimize expenses, save time, and cut down on taxes.
If you're ready to start your estate planning, give us a call on our 24-hour line at (916) 333-7910.
You might find these other blog posts helpful;
'Estate Planning with Joint Tenancy During Divorce'
Is it too early to start thinking about an estate plan? Perhaps you are too young to worry about such a need. However, tragedy can strike in a blink of an eye.
Devastating accidents don't only happen to older people. Younger people should also consider the benefits of estate planning.
But where does one even begin to start?
Let's discuss the benefits of estate planning, what to look for in an estate planning attorney, and why Filippi Law Firm P.C. is a great choice to help with this important aspect of life.
Who Needs an Estate Plan?
Do you need estate planning earlier in life or later? Most people would agree that having your estate plan handled earlier in life is the more responsible way to go.
Even if you have little to no financial assets, it's important to have an estate plan in place. Your final wishes can be spelled out and addressed for those you leave behind to follow.
It can get pretty ugly without something official in place, should family or friends want different things for you once you have passed away. Funeral arrangements and final goodbyes deserve the attention of an estate lawyer in Rocklin.
You should talk to an estate planning lawyer if you own a business, numerous businesses, or children. People often think they have much more time to plan these things out, and sometimes they do. But life also brings a number of things that can affect the timing and preparedness of any future plan. You don't want to be caught off guard and have your family's well-being affected if the worst should unexpectedly happen.
When planning for estate issues, it's important to know who to turn to. A reputable estate planning lawyer is essential in this equation.
Benefits of an Estate Plan
When your estate planning is completed, there is no guesswork should the worst happen. If you were to pass suddenly, your wishes regarding your estate would be clear and well-defined. Estate planning rules in California can be tricky and need to be navigated by a professional.
The benefits of estate planning in the Rocklin area are numerous. Once you reach the age of 18 years old, your parents no longer have the right to make financial, medical, or educational choices for you. You may need a living trust to protect your rights should the worst happen.
It's also advisable to have an estate attorney in Rocklin handy to protect your family from scammers and con artists should you pass and someone tries to steal your identity. Solid, responsible estate planning can help keep these despicable people away from your family should something devastating happen to you.
How Much Does an Estate Plan Cost?
One of the main concerns about estate planning for many folks is the cost of putting together something official. Putting together a basic last will and testament can run as little as $350 to $650. However, the more complex estate planning you do, the more it can cost.
When you factor in businesses and companies that you may own or be a part of, it can take many more hours and documents needed to complete. Another aspect has a husband, wife, and children. Guardianship can be a complex aspect of estate planning and needs to be given the proper attention it needs.
How To Create an Estate Plan?
You can create your estate plan with a do-it-yourself will. There are many options for those who only want or need to participate in basic estate planning—some research on the internet to find options with downloadable forms to fill out. There are instructional how-to videos people can watch to do their estate planning.
For some, planning every aspect of an estate plan can be confusing and uncertain. If you do not have a background in law and are nervous about attempting such an undertaking all by yourself, it's advisable to talk to an estate planning attorney. Using the services of a detail-oriented estate planning lawyer is money well spent.
Most people do not know estate law to attempt to create a living will or a last will and testament. They are more comfortable paying an estate lawyer to do the job correctly. An estate planning attorney has the training and know-how to cover all aspects of your estate planning in a detailed, professional way.
Most will offer you an initial consultation so you can sit down together and discuss your exact situation, simple or complex. Once you've discussed your wants and needs, a plan can be put together to ensure this happens. You'll have peace of mind once this is in place.
Create Your Estate Plan With Our Estate Planning Lawyer
If you decide not to attempt to make a living will or another variant of something similar on your own, you can enlist the help of a reputable attorney, Filippi Law Firm P.C. Our attorneys have the knowledge and know-how to create a comprehensive, practical plan so that you and your loved ones will never be caught off guard, should the worst happen.
Our years of experience and knowledge as estate planning lawyers can help you develop a plan that will cover your family's business, retirement, and estate planning needs, with these and other variables factored into the equation.
Contact us today to schedule a consultation. You'll have the peace of mind you want when you utilize the resources and knowledge that their attorneys bring to the table.
Read our blog post 'What Is an Estate Plan?' to learn more.
We often don't think about our future until it's too late. And when it comes to estate planning, it is never too early to have a solid plan. While it may not be pleasant to think about, life is unpredictable.
When we near the end of our life, we need to make sure our assets are safe and our family is secure. Estate planning is not just for the wealthy and affluent, and people from all walks of life need to ensure they have a proper plan for when they are gone.
With the right team and strategy, estate planning will be painless and set your family up for success. Countless benefits will ensure that everything you've worked for doesn't go to waste. Below are the top ten reasons you need an estate plan now.
#1 Reduce Estate Taxes
Putting together an estate plan can prevent a considerable chunk of your money from being taken by the government. In the situation of your passing, having to send a large percentage of funds to the government would be an unwanted burden on your family.
Whether it is estate taxes, capital gains taxes, or property taxes, there are ways to lower the amount of your money taken. Having a professional work with you to set up living trusts is one method of reducing taxes.
Plus, it will speed up the process for your heirs and help reduce confusion and stress over how to deal with all the taxes.
#2 Protect Assets
An estate plan is designed to help you organize your inventory of assets and be aware of all the steps needed to protect them both during your lifetime and after you are gone. In many cases, people often forget how easy it is to lose assets when they are not protected.
For example, if you happen to be involved in a lawsuit during your lifetime, a good estate plan could help you protect your assets.
#3 Protect Beneficiaries
One of the main reasons for estate planning is to make sure that your beneficiaries receive everything you want them to. An estate plan is beneficial if you are wealthy with a substantial estate or only have a few assets, including the family home to leave to your heirs.
Regardless of how much you have to leave your loved ones once you are gone, protecting your beneficiaries and ensuring they get everything you intended for them to have must be set up before your death.
Nobody knows your family better than you do. If you don't have an estate plan or will, it will be up to the courts to decide who gets what. Whatever your reasoning, having everything set up beforehand is the best way to ensure that all your assets get distributed according to your wishes.
#4 Prevent Family Problems
The death of a loved one causes enough pain as it is, and adding family problems or fighting over assets on top of that causes unwanted stress at a difficult time in people's life. These disputes can often pit family members against each other.
Some siblings may think they deserve more than another, a spouse may think they should be responsible for the entire estate, or a beneficiary might believe they should be in charge of dividing the estate amongst family.
Whatever the situation, stopping these issues from arising in the first place is a significant benefit of estate planning— having everything organized in advance will allow the process to run smoothly and prevent any avoidable problems from arising within your family.
#5 Protect Minors
Preparing for worst-case scenarios is an essential aspect of estate planning. Nobody anticipates it, but leaving children under 18 must be properly planned to ensure they are taken care of in the case of your unexpected death.
You know your children better than anyone, and you know what situations would be best for them. By naming guardians that will take care of your children, you will avoid the painful experience of a court battle to appoint custody.
These avoidable situations not only cause unneeded stress and pain but can often put your children in circumstances that are not ideal for their future. Setting up a trust for minors is a great way to ensure that they will get everything you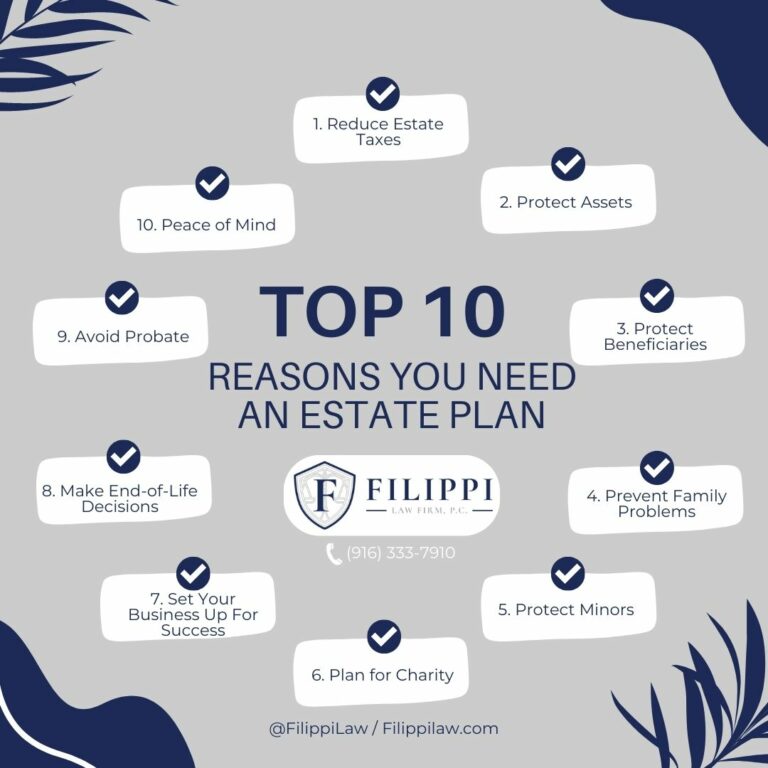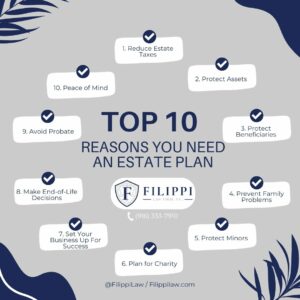 set aside for them when they are older.
All of this can be planned when setting up your estate plan.
#6 Plan for Charity
Today we see many of the world's wealthiest people allocating portions of their fortune to charity. Regardless of the amount of your wealth, individuals that would like to leave an asset or specified amount of money to a charity need to plan this in advance.
Providing money to charities or non-profits is a noble cause, and the process can be made simple with an estate plan. Once you decide which charities you wish to donate to, they can easily be added, and your family won't have to worry about handling any of these details.
By deciding in advance where the money will go and coming up with a plan, you may also be able to avoid losing too much of the money to taxes to make your generous gift even more substantial.
#7 Set Your Business Up For Success
You worked incredibly hard to get your business to where it is today. Don't you want to ensure that it remains successful when you're gone? Unfortunately, that company you spent your life building could be gone without a succession plan in the blink of an eye.
An estate plan will ensure that you can decide who takes over your company when you're gone. Making certain the right person is put in charge could be the difference between an ongoing successful legacy and your business suffering from poor management.
Creating an estate plan can ensure that your business is put in the hands you think are best to carry on your legacy. This may be one individual or a team of professionals that will have your best interest at heart.
#8 Make End-of-Life Decisions
Nobody wants the task of deciding what happens to a family member when they are incapacitated. An estate plan is not only for money and property, but it can also be used to designate a power of attorney when you cannot make decisions yourself.
You can also provide in specific terms your end-of-life decisions. Whether it is deciding treatment options for certain health problems or choosing a loved one that can make those decisions for you, this can prevent hard decisions from being thrust upon someone unexpectedly.
#9 Avoid Probate
Everyone has heard the horror stories of people going through probate. The process of validating your will and placing your assets where you want them can be a long and painful process.
During probate, various people can challenge your will, which may even prevent your last wishes from happening. This is a family's worst nightmare and can be eliminated when the proper steps are in place at the time of your death.
Avoiding probate is one of the most important reasons to talk to a professional estate planner. Having everything set up accordingly can allow your family and loved ones to avoid the probate process altogether. Read more about probate here.
#10 Peace of Mind
At the end of the day, your peace of mind is the most critical aspect of estate planning. Going through life worrying about what will happen when you're gone could easily add unneeded stress to your last years.
Knowing upfront what will happen to your assets will allow you to relax and enjoy your life, and you'll have the comfort of knowing that your estate plan will take care of your loved ones long after you are gone. These are all great reasons you need an estate plan now.
Contact Us Today
The Filippi Law Firm, P.C. is a highly rated estate planning law firm in Rocklin, California. Our team is dedicated to guiding you through the process and bringing peace of mind to your family. When you hire us, you are more than a client, you are part of our family. Get in touch today to see how we can help you create an estate plan that matches your needs.